LiquidScan™ is based on an antibody's biological affinity and specificity for its complementary epitope/target. For LiquidScan™, the nanochannels of a microfluidic device are surfaced with antibody(s) against a desired target within a liquid biopsy sample. The antibodies in the channels have been attached to the plastic of the chip by linkers that allow for either photoactivated or enzymatic cleavage. A sample is passed through the chip, allowing affinity capture of the desired biomarker. Following sample loading, the chips are washed to remove unattached cells (background) and non-specifically bound cells. The chips are then bathed in 415 nm light or treated with a heat-activated enzyme to release the cells. Cells are then eluted and collected, ready for downstream analysis. The process results in greater than 10% enrichment over the background, e.g., >10 CTCs in a total cell count of 100. Since, for patient samples, the number of rare cells per ml is not known, enumeration protocols are provided as part of the standard protocols.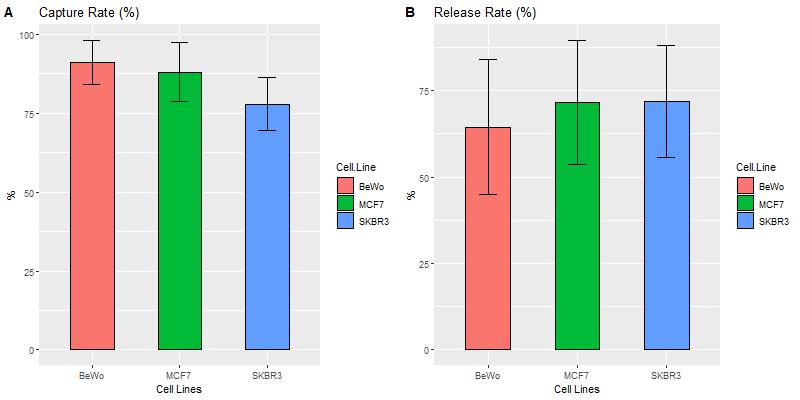 The channels of the LiquidScan™ microfluidic chips are surfaced with specific antibodies. LiquidScan™ technology relies on the affinity of the antibody under the flow conditions of loading sample on the chip, to "catch" the desired biomarker. The biomarker may be an antigen on a rare cell or exosome. Capture is critical, as is the ability to release the caught biomarker unencumbered. On LiquidScan™ released biomarkers are eluted from the chip in a volume ready for downstream molecular or immuno- analysis.
Below is described the basis of the proprietary catch-and-release chemistry. Efficiencies of catch-and-release for several cell culture types is shown to the left.
Specific Isolation of Circulating Cells
Any cell with specific cell surface markers can be isolated using LiquidScan™.
Specific Enrichment of Exosome Populations
Exosome surface proteins are used to enrich sub-populations using LiquidScan™.
Applications
The LiquidScan™ System has been evaluated for diverse applications in oncology of solid tumors and blood-based cancers. The results are documented in peer-reviewed publications.
LIQUIDSCAN™ TESTED
Ovarian

Colorectal

Endometrial

Lung

Pancreatic

Prostate

Bladder
Cholangiocarcinoma

Multiple Myeloma

Acute Myeloid Leukemia

Acute Lymphoblastic Leukemia

Prenatal

Stroke
PEER REVIEWED PUBLICATIONS
Liquid Biopsy Core Facility
UNIVERSITY OF KANSAS MEDICAL CENTER